Scorpio Daily Horoscope for Monday, 16 May 2022. Get accurate love and career forecasts for Scorpio today and find out what the stars predict for your star sign!
Scorpio Today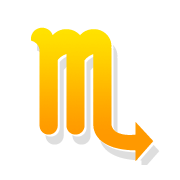 You are under a lot of pressure today and it looks like there are a number of responsibilities you will be called to meet. Be prepared for such an eventuality or you will lose control and this is certainly something you don't want to do. Stay positive and don't let any obstacle or delay get to you.
Daily Love Horoscope
Your personal life is riddled with tensions, problematic situations and passionate disagreements. Don't overdo it or push your luck because you will only make matters worse. If you stay more flexible and learn to compromise every once in a while, you will manage to steer clear of future arguments and find some peace. If you are single, get ready to reconnect with someone from your past. This will give you the chance to complete something that had been left unfinished. This time, make sure to handle the situation correctly and not repeat past mistakes.
Daily Career Horoscope
Professionally, you are so stressed out that this literally stands in your way, blocking the path to your goals. Try not to despair. Keep working hard and efficiently and you will soon pull through. Your finances continue to trouble you. Stay organised, keep calm and you will get back on your feet again.
How do the planets affect Scorpio today, at this present hour?
Time:
Jupiter
From: 23:32:25 Till 00:14:43
Got a date or important event coming up? Go to our full Planetary Hours app and get your forecast for a specific time in the future!
Want to go deeper? Read your Daily Natal Horoscope, based on your date and place of birth!
♏ What are the most important aspects that affect you today? See a thorough overview of the day for all the star signs in the ➳ daily horoscope.
Since you're here check also Today's Love Tarot Card for Scorpio
Monday 16 May 2022