Free monthly horoscope for Aries. Find out what May 2022 has in store for Aries star sign, in matters of love, career and more.
Aries Month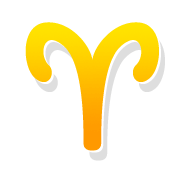 Dear Aries, this month will be full of energy for you. Your daily life will be characterized by hype, turbulence and dynamism. This month is ideal for pursuing your goals. All you have to do is draft an action plan and stick to it. You have the inner strength to make your own path and overcome any obstacle that blocks it. After the middle of the month, the pace slows down and you become more realistic and practical, focusing on your financial growth. Do not be afraid of change; you know there is no evolution without it. Any loss to come will be insignificant, compared to the benefits you will enjoy. You are a fighter and, in the end, you will win. Don't let physical exhaustion get you down. The result will invigorate you.
Monthly Love Horocope
This month will bring emotional instability on your relationships. If you are in a relationship, be prepared to face an explosive phase. Your mood will be unstable and changing. Only the strong, substantial bonds in your life will survive, living you with a clearer view of your future. If you overcome these difficulties in your relationship, expect it to become official soon. Otherwise, you shall go in separate ways. Your intimate moments are characterized by passion and emotion, which balance out the situation. If you are single and looking for love, you are likely to meet the one you desire. Your life will be full of flirting and pursuit. Allow yourself to swim in a sea of passion and feelings. Doubt and inhibition won't bring you anything.
Aries May love compatibility
| | |
| --- | --- |
| Aries | |
| Taurus | |
| Gemini | |
| Cancer | |
| Leo | |
| Virgo | |
| Libra | |
| Scorpio | |
| Sagittarius | |
| Capricorn | |
| Aquarius | |
| Pisces | |
Monthly Career Horocope
Expect changes in your work life. You will have the chance to clarify things and empower your status. You must play the game right and follow the rules, in order to be safe. You will have a shot at your dreams and goals, even if that means bold steps and a change of work environment. This will become possible either through new funding options, or through cuts in your expenses - or your splurges. The right plan will bring you balance. Don't hesitate to change your ways, if you must.
Aries month by month
| | | |
| --- | --- | --- |
| January | ⭐⭐⭐⭐⭐ | Great start to your year! |
| February | ⭐⭐⭐ | Avoid overspending |
| March | ⭐⭐⭐⭐ | Start afresh |
| April | ⭐⭐⭐⭐ | Challenges make you stronger! |
| May | ⭐⭐⭐⭐⭐ | Expect important changes |
| June | ⭐⭐⭐⭐ | The most passionate month of 2020 |
| July | ⭐⭐⭐⭐ | Relax and socialise |
| August | ⭐⭐⭐⭐ | Harmony and growth |
| September | ⭐⭐ | Don't let setbacks bring you down |
| October | ⭐⭐⭐⭐ | Bonds become stronger through communication |
| November | ⭐⭐⭐ | Go with the flow, don't force things to happen |
| December | ⭐⭐⭐⭐ | Go after what you want |
Read the Monthly Horoscope for another zodiac sign.
Your Ascendant Characteristics
For a personal, live SMS reading text ARIES and your question to 84545 on your mobile (Texts cost £1.50, max 2 per reply. 18+ We may send you free promo msgs. UK customers only: Helpline 08000 671 933).
May 2022