Scorpio horoscope for tomorrow Friday, 01 July 2022. Read now what the stars have in store for Scorpio next day horoscope on matters of love and career.
Scorpio Tomorrow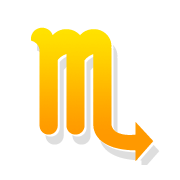 The planets smile upon you today and your mood is reaching a peak. You are quite satisfied with yourself because you see that all your hard work is finally paying off. Keep following these tried and tested methods and aim to realise yet more of your dreams and ambitions. This is the only way to secure a bright future for yourself.
Tomorrow's Love Horoscope
In your relationship, there are certain problems that bother you, but this is not a good day to address them. Let sleeping dogs like and do your best to enjoy some beautiful moments of love and peace with your beloved. If you are single, don't sit in your house, surrounded by your four walls. Go out - force yourself if you have to - and do what you need to do to allow luck to find you.
Tomorrow's Career Horoscope
Your career is extremely favoured today. Take the initiative, get active and take advantage of every opportunity that crosses your path. This will help you make progress. Your finances are getting some respite at last. Opt to pay off debt with the money you get and resist the temptation to make useless purchase.
Read Tomorrow's Horoscope for another zodiac sign.
See also:
Today's Horoscope
Friday 01 July 2022