Free weekly horoscope for Scorpio star sign, for the week 27 Jun - 03 Jul Read on to find out how this week's astrology aspects will affect you, in matters of love, career and more.
Scorpio Week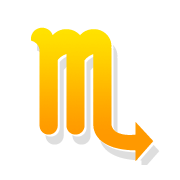 Dear Scorpio, this week brings closure to some pending issues and this makes you feel relief. At the same time, new beginning lie ahead, with solid foundations, proper planning and method. You will make the most of your life-experience in order to construct the optimum action plan. Developments are in sight, especially ones pertaining to an issue that has been troubling you. The weekend will be soothing and serene, with intense emotion, intuition and lack of disputes. Get some rest and enjoy what you have in life, expressing your gratitude to the universe.
Your love horoscope for this week
Your love life is on the right track, with no particular tensions and issues. You manage to strike a balance that brings you inner peace. You maintain a laid-back mood and some fruitful communication in your relationship. These days are suitable for talking to your partner and expressing your thoughts and worries. They will not judge or embarrass you and you will be willing to open up take their advice. The weekend reinforces a sense of companionship.
Your career horoscope for this week
Delays at work will annoy you. Worry not, as these issues are temporary. Solutions will be found shortly and things will turn around, much to your reassurance. Your patience will be tried, but don't let this get you down. Just when things will appear hard, everything will change to your benefit. Deal with your financial obligations by paying off any debts. This will help you make a new beginning.
♏ Get now more details about the impact of the planets this week, based on your ➳ Weekly Horoscope.
For a more in depth and personalised astrological analysis, check your Daily Natal Horoscope.
See also:
27 Jun 2022 - 03 Jul 2022